Order your tickets for VIVANESS

Your TicketShop for VIVANESS 2023
Get your personal e-ticket for VIVANESS 2023!
Please note that admission admission to the exhibition is restricted exclusively to trade visitors.
As your legitimation is checked manually, we require a processing time of 2 to 3 days before you receive your e-ticket by e-mail.
Payment can be made by credit card (Mastercard/Visa) or by PayPal.
Your e-ticket is personalised and non-transferable.
You will receive a valid invoice together with your e-ticket by e-mail.
---
Ticket prices
The prices include the statutory VAT.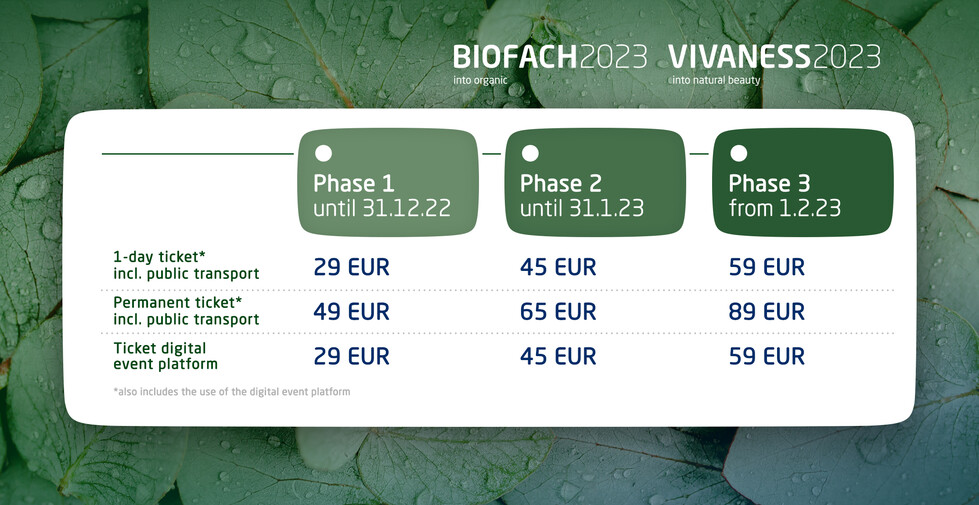 ---
Students from courses of study relevant to the trade fair can get tickets at a discounted price. For further information, please send a formless e-mail to bioviva.students@nuernbergmesse.de
---
All entrance tickets are also valid for visiting BIOFACH 2023.
---
You have a voucher code? Redeem your voucher in the Voucher Shop!
Fotos: E-Ticket © NicoElNino / Fotolia