VIVANESS Newsroom
Five questions to Freya & Mathieu from THE SIMPLE SOAP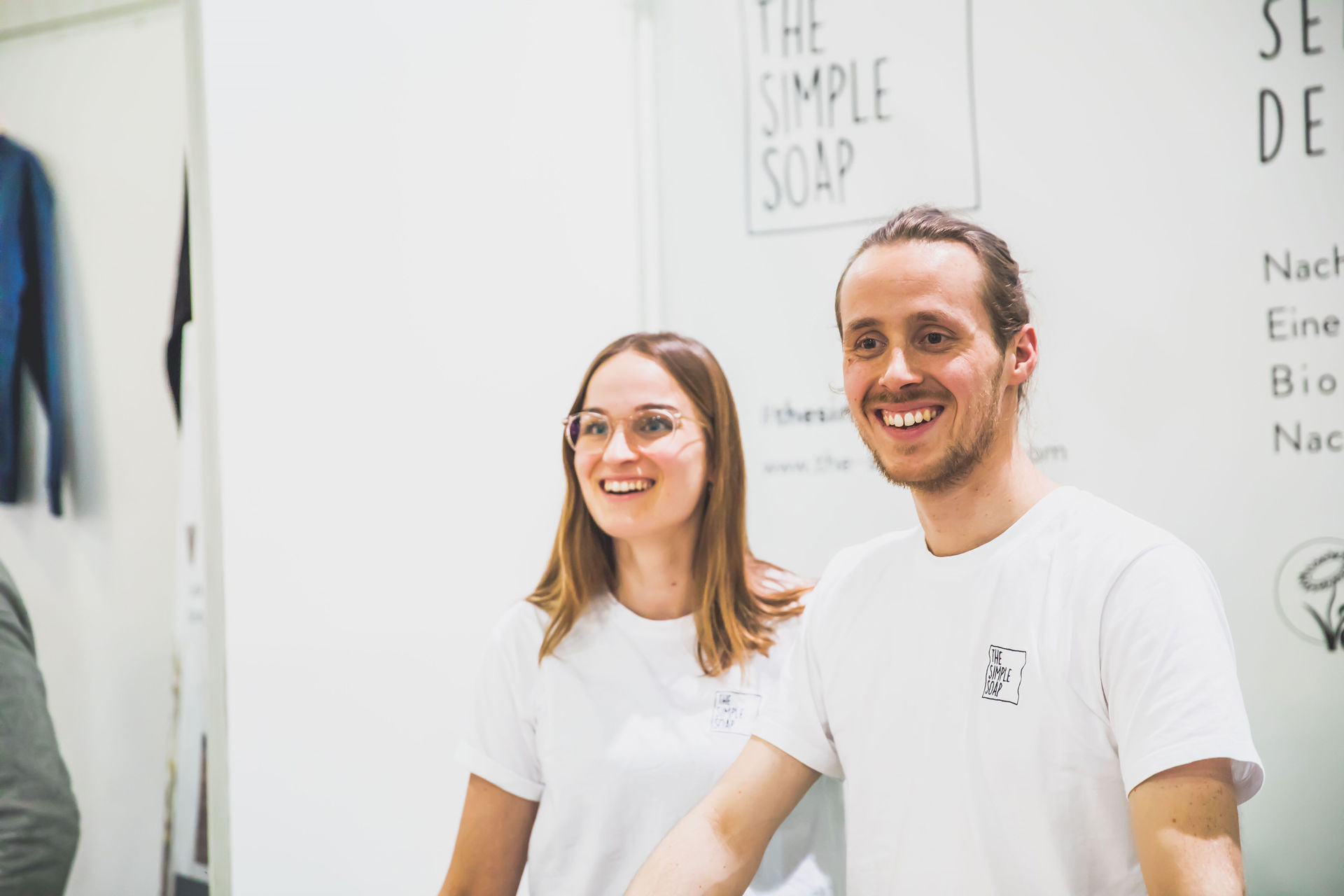 1. What is your business about – what is your USP?
Our project was born out of the plan to design a well thought-out, sustainable product, a kind of soap as a blueprint for a sustainable economic circle. The focus here is on resource protection and waste prevention. Our soap consists of only six natural ingredients, comes in the refillable glass bottle, is organic, vegan and fragrance free. Through our bottling stations in retail stores, the customer can refill the empty bottle over and over again, thereby producing no further waste. In addition, we have also checked all other processes, from production to shipping to your ecological footprint and looking for the best alternatives. For example, our shipping cartons consist of compostable grass paper and our trading partners will be given the opportunity to return all boxes and shipping materials so we can use them as often as possible.
2. Who started it and how?
The idea arose from our private interest to live ecologically and sustainably. We take great care to improve ourselves in this direction. However, anyone who deals intensively with this topic will eventually realize that many products only help to solve the problem at first glance. Much is talked nice or still kept secret. The term "greenwashing" is now - luckily - on everyone's lips. So we asked each other if it was possible to create a truly sustainable product and if so, what was needed for that. Since we had replaced many of our bathroom products with DIY solutions and soap is an everyday product of life that many people could use to reach, we decided to try it.
Of course, in the further course of the process, new problems kept coming up to us, for which we either had to look for a suitable alternative for a long time or even had to develop our own. So it took almost two years until we officially started in October 2019.
3. THE SIMPLE SOAP at VIVANESS – what do you expect from your participation?
The last few months have shown us that the interest in our product is enormously high due to the possibility to fill it again and again. In order to reach as many people as possible, we are looking for trading partners who want to offer and set up our soap and our filling stations. So far, we work with unpacking shops, but are also open to smaller and larger organic food stores. Through VIVANESS, we hope to meet people who are equally keen on this topic and with whom we can work together in this way.
4. Which natural and organic cosmetic product is your personal must-have?
Actually, we would have to cite our soap here because we meanwhile use it for washing, showering, rinsing and cleaning, without being really in the fix. Otherwise, I would not want to be able to do without our homemade deodorant from coconut oil and shea butter. It's amazing how easy it can be to do something yourself that is so effective and enjoyable.
5. Describe THE SIMPLE SOAP with three hashtags:
#reduce
#reuse
#refill